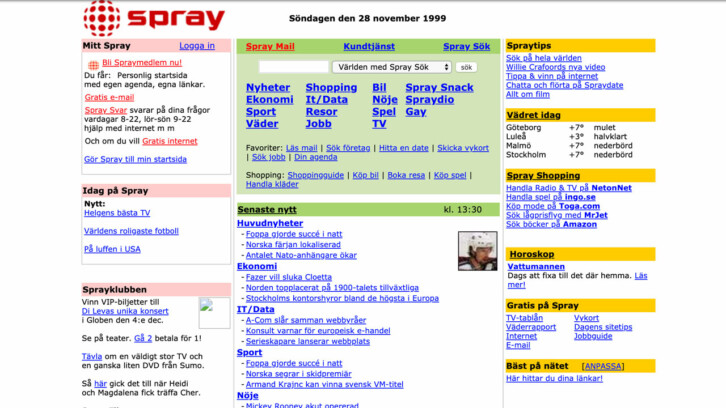 Spray pioneers a new type of corporate culture
Among the first to jump on the new internet hype in Sweden are Spray. The company starts as internet consultants in 1995 and build many of the first web pages for Swedish large corporations.
Like many of the people who are to become successful entrepreneurs during the first IT boom, Spray's founders are working at Jan Stenbecks Kinnevik in the early 1990s. In 1995 Jonas Svensson and Johan Ihrfeldt decide to leave the office on Skeppsbron and try their wings in cyberspace. They borrow half a million SEK and open up shop in a small office on Östermalm in Stockholm. They soon bring over former colleagues Sebastian Knutsson, Michael Daun, Gunnar Lindberg Årneby, and Patrik Stymne, who are all co-founders.
Only four years later, in 1999, Jonas Svensson and Johan Ihrfeldt find themselves at Nasdaq in New York, ringing the classic bell. Spray's consultancy department have joined American internet company Razorfish and an IPO follows in the USA. During these four years that pass both the number of employees and the areas they work within have seen explosive growth.
Together with the IPO, Spray's other projects – Spray Mejl, Spray Date, the gay web site Sylvester and SPRAYdio to mention just a few – are collected on the portal spray.se with the catchphrase "The internet begins here". The portal becomes one of Sweden's most popular web sites. There's not a lot of money coming in, but Spray is saved the same year as the IPO by taking in 500 million SEK from Swedish investment company Investor.
As much buzz as Spray create for the interactiva web sites they build for their clients is created by their corporate culture. Together with other internet consultant companies they represent something new in Swedish business. Gone are the ties, stiff old men and clear hierarchies. The organization is flat. Youth and creativity is prefered over experience. In the office workers stay until late at night, and if they want to sleep there are bunk beds on location. They skateboard inside, throw grand parties and are treated like rockstars on the clubs and restaurants around Stockholm's fashionable Stureplan.
Spray keeps a lower profile in the media than their largest competitors Framfab and Icon Medialab. "We'd rather work than run around ant talk", says then CEO Per Bystedt in an interview. Johan Staël von Holstein, founder of competitor Icon Medialab, counters by calling Spray "a chaotic company with skateboarding kids with zits".
After the bubble bursts, some of Spray's founders and employees start the game company King, which with their success game Candy Crush Saga will later become one of the world's largest game companies.