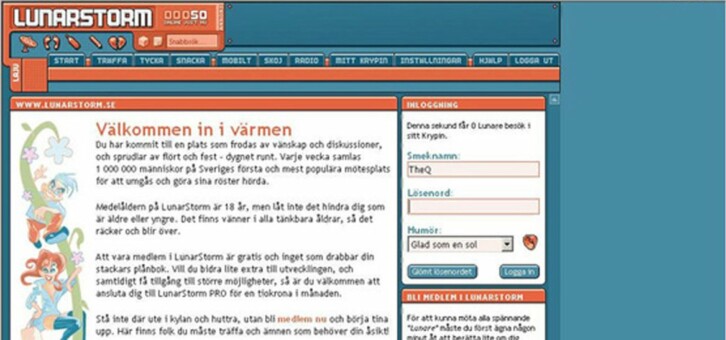 Lunarstorm (Stajl Plejs) is one of the first web communities in the world
In 1996 the web community StajlPlejs is founded, and a few years later changes its name to Lunarstorm. This is Sweden's first and largest online meetingplace - a colorful site where almost all of Sweden's youth hang out online for a few years.
Stajl Plejs peaks at 40.000 users, but the server which hosts the site is overheated during the summers and even burns up once.
Pre Facebook
In the year 2000 Stajl Plajs changes. After some new investments and new hardware, it becomes Lunarstorm. An orange and blue web site where almost all Swedish teens hang out online for a few years. You could call it the Facebook of its time. The average age of the users on Lunarstorm is 18,3 years.
In the beginning Lunarstorm is financed by banners and other commercials. Later, new revenue streams are found with paid text messages and different kinds of collaborations. For example, Lunarstorm had its own cell phone subscription called "Vrål" and in 2002 they launched the service "Kolla" which let users communicate over Lunarstorm over their cell phone.
Why the name "Lunarstorm"?
The name was founder Rickard Eriksson's then girlfriend's handle on Stajl Plejs.
The guest book is a success
On Lunarstorm you could visit other users' profiles and leave a public message for them in their "guest book". This is Lunarstorm founder Rickard Eriksson's story about the guest book, from his own memorial page for Lunarstorm:
"I launched the guest book, which became a semi-public way of communicating. Everybody could read when you wrote in your friend's guest book, and could respond in turn. And I say "semi-public" becuase it was usually just your closest friends who visited your guest book, not the entire world. The guest book came to be the most popular way of communicating on Lunarstorm, and our notification icon with its stomping feet made your heart beat a little faster."
Here is what the guest book looked like: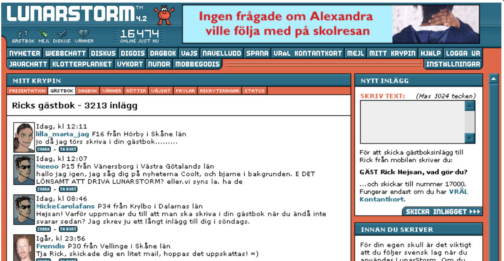 Lunarstorm peaks at 1,2 million members
For long, Lunarstorm is the largest. They peak at 1,2 million members and about 500.000 unique visitors per week, but slowly they begin to lose ground and finally the site is shut down in 2011. In 2016 the service is rebooted in a "nostalgia version".
The Internet Museum met up with the founder Rickard Ericsson to talk about what happened (in Swedish only):