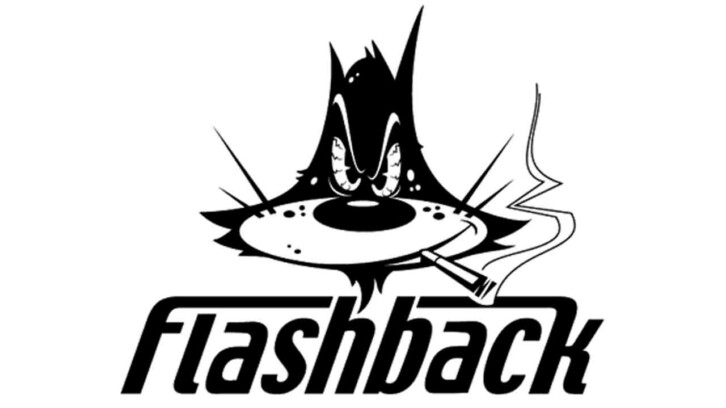 Flashback starts a forum and becomes one of Sweden's largest web sites
Flashback is Sweden's largest online forum with about one million users writing over 15.000 posts every day. It has over two million visitors each week.
From the beginning, Flashback is a punk fanzine. After about ten years they launch a web site, in 1995. This is what that version looked like: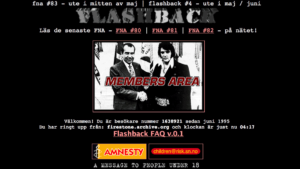 On the early web, before search enginges dominated our use, Flashback builds a huge link collection and helps its users find strange and "morally ambiguous" web sites. For a few years there is also an IRC channel, and some mailing lists.
Open web forum with almost total freedom of speech
In 2000 the forum is launched, looking almost identical to what it still looks like today, with open forums instead of closed. Discussions range from pets and family life to science, guns, and politics. The discussions are sometimes controversial and contain gossip about celebrities, xenophobia and drug-related topics. A court order from 2002 forces the forum to move its servers abroad to escape moderation.
Flashback is both lauded and hated
The extreme tolerance for differing opinions at Flashback, and its stance on freedom of speech has led to debate in traditional media. A highly publicized event on the forum is when a 21-year old man commits suicide in October 2010. In his own forum thread on Flashback he is describing his preparations and live streams his own suicide for Flashback users to follow – all while some forum members cheer him on as others try to dissuade him. Flashback was heavily criticized for not shutting down the thread earlier, and for the very rough tone in the comments.
On the other hand, one thread from Flashback was nominated to the journalistic price Guldspaden after it revealed that the nature photographer Terje Hellesø's photos were forged. Flashback forum users were also the first to publish revealing information about how a small town in Sweden handled a rape in a local highschool.
Podcast "Flashback Forever" is a huge success
In 2020 the podcast Flashback Forever is one of Swedens most popular podcasts. Comedians Ina Lundström and Emma Knyckare together with the anonymous "Scroll-Mia" read threads from Flashback and discuss obscure and weird topics.